Orgalla Designs
Lepidolite, Rose Quartz & Moonstone Bracelet
Lepidolite, Rose Quartz & Moonstone Bracelet
Raise Your Inner Vibration!
Mindfully crafted by artist, Heather Kingsley, this lepidolite, rose quartz, & moonstone beaded bracelet is inspired to help with:
Lepidolite
Helps with balance, grounding, protection, cleansing, anxiety, stability, trust, wisdom, stress, tension, growth, divine connection, harmony, help with allergies, Alzheimer's, epilepsy, sciatica, joint problems, menopause, anemia, insomnia, strengthens the blood supply, helps with mood swings & neuralgia. 
Rose Quartz
Also known as "Stone of Love," rose quartz is uniquely beautiful and has many benefits. This rose quartz sphere helps face difficulties, protection, connect to the heart chakra, inspire to Listen within your heart, attracts money, fertility, success, power, love, forgiveness, courage, strength,  compassion, balance, vitality, social interaction achievement of goals, self healing, spiritual growth, growth from repressed emotional issues & helps remove false perceptions of self. 
Moonstone
 Inspires to heal emotionally, mentally & physically, embrace new beginnings, balance, fertility, mood swings, PMS, strength, inner growth, awareness, intuition, happiness, love, sense of calm, insight, wisdom, nurturing, good fortune & stability.
Made In The USA
Chakra: The Third Eye, Heart & Root Chakra
Element: Water, Moon & Air
Zodiac: Libra & Taurus
Planet: Saturn & Venus
Hardness: 2.5 - 7
Measurements: Stretch Bracelet (One Size Fits Most)
The Item seen in the photo, will be the item you will purchase, unless otherwise indicated. Please keep in mind that color may differ with various computers.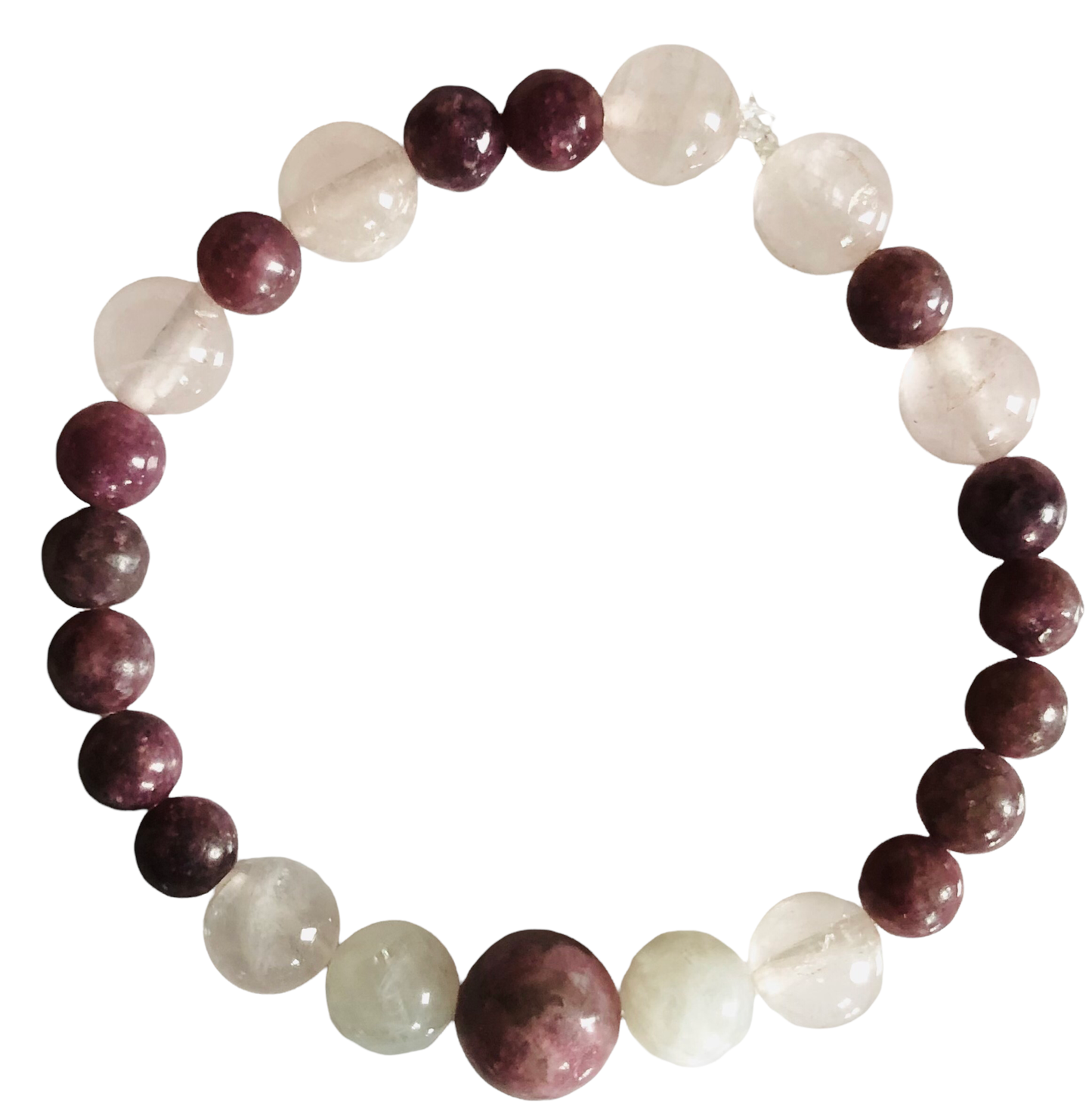 Lift Your Inner Vibration...
* *** *LIVE * LAUGH * LOVE * *** *
Returns

Returns must be made within 30 days of purchase, with a receipt, for store credit only. The item returned, must be in the same condition, as when it was purchased. Implant grade Body jewelry is non-refundable, unless determined difective, due to sanitary reasons.