Orgalla Designs
Stainless Steel Circular Barbells (Ball & Spike)
Surgical Grade 316 L/LVM Circular Barbells
             
Raise Your Inner Vibration!
Internal & External Threading
Orgalla Designs offers implant grade circular 316 L/LVM surgical grade stainless steel circular barbells, in various sizes and diameters.
Please see our

 

Size Chart

 

for recommended sizes for specific piercings.
Gauge sizes
18G: 1/4" (6mm), 5/16" (8mm), 3/8" (10mm), 1/2" (12mm)
16G: 
1/4" (6mm), 9/32" (7mm), 5/16" (8mm), 11/32" (9mm), 3/8" (10mm), 7/16" (11mm), 1/2" (12mm)
14G: 
 3/8" (10mm), 7/16" (11mm), 1/2" (12mm), 9/16" (14mm), 5/8" (16mm)
12G: 3/8" (10mm),  1/2" (12mm), 9/16" (14mm), 5/8" (16mm)
10G: 3/8" ( 10mm), 1/2" (12mm), 9/16" (14mm), 5/8" (16mm)
8G - 2G: Custom sizes available upon request only.
Ball Size: 
2mm, 2.5mm, 3mm, 4mm, 6mm 
Jewelry comes with provided manufacturer ball. If you are looking for a specific size, please inform us during check out, and we will try to accommodate.
Special custom size request available.
Please Contact Us for more details.
Circular barbell's are also available in the following metals:
Yellow Gold - Rose Gold - White Gold -Surgical Grade 316 L/LVM Stainless Steel - Titanium/Niobium (Green, Purple, Rainbow, Light Blue, Dark Blue, Acrylic
Purchased Product Details
 Circular barbell of 1 item, in 1 gauge, and 1 diameter.
Absolutely a great gift, versatile circular barbell that is UNISEX.
Weight & Measurement:

 

varies depending on gauge and diameter of jewelry.
Items sold on this page are externally threaded jewelry prices only, unless otherwise indicated under the specific item.
Internally threaded jewelry available. Price will differ due to quality of the jewelry and manufacturer.
Internally threaded jewelry is a higher quality body jewelry, and will reflect a difference in pricing compared to externally threaded jewelry.
Orgalla Designs offers high quality threaded jewelry only.
The Item purchased is a duplicate item from the photo. Please keep in mind that color may differ with various computers.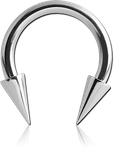 Lift Your Inner Vibration...
* *** *LIVE * LAUGH * LOVE * *** *
Returns

Returns must be made within 30 days of purchase, with a receipt, for store credit only. The item returned, must be in the same condition, as when it was purchased. Implant grade Body jewelry is non-refundable, unless determined difective, due to sanitary reasons.